It's that time of year again, and according to merchants, Canadians started decorating even earlier than usual for Christmas. I'd call that the Covid effect. With everything being so abnormal right now, it's safe to say that we're all looking to the comfort of reliable traditions to see us through the shortest and darkest days of the year.
So how to make your home more cheery and less dreary? Light it up! I've personally noticed many more house exteriors this year with lights blazing. And not just with the typical string of lights along the roofline. With so many options to choose from in stores, it's easy to turn your home and yard into a Griswald-worthy extravaganza.
You don't have that kind of motivation or time or money this year? There are many easy and economical ways to perk up your space for the holidays without exhausting yourself. And I guarantee you'll feel better during those long, dark evenings with a few festive touches around your home.
Add some scented (or unscented) candles
Scattering candles throughout your home helps to bring a sense of cosiness along with Christmas nostalgia. The scent of cinnamon or pine really invokes the festive season for me. Place individual candles in your windows, or make large groupings for a more dramatic and cosy effect.
Want to be extra safe? There is an unlimited selection of LED candles out there to choose from. This is a fantastic option if you have children or pets. I put them in every room, even the bathrooms, for a little extra touch of holiday spirit everywhere. The best part is that you can add real greenery to these groupings without burning your house down. (Sadly, I speak from experience.)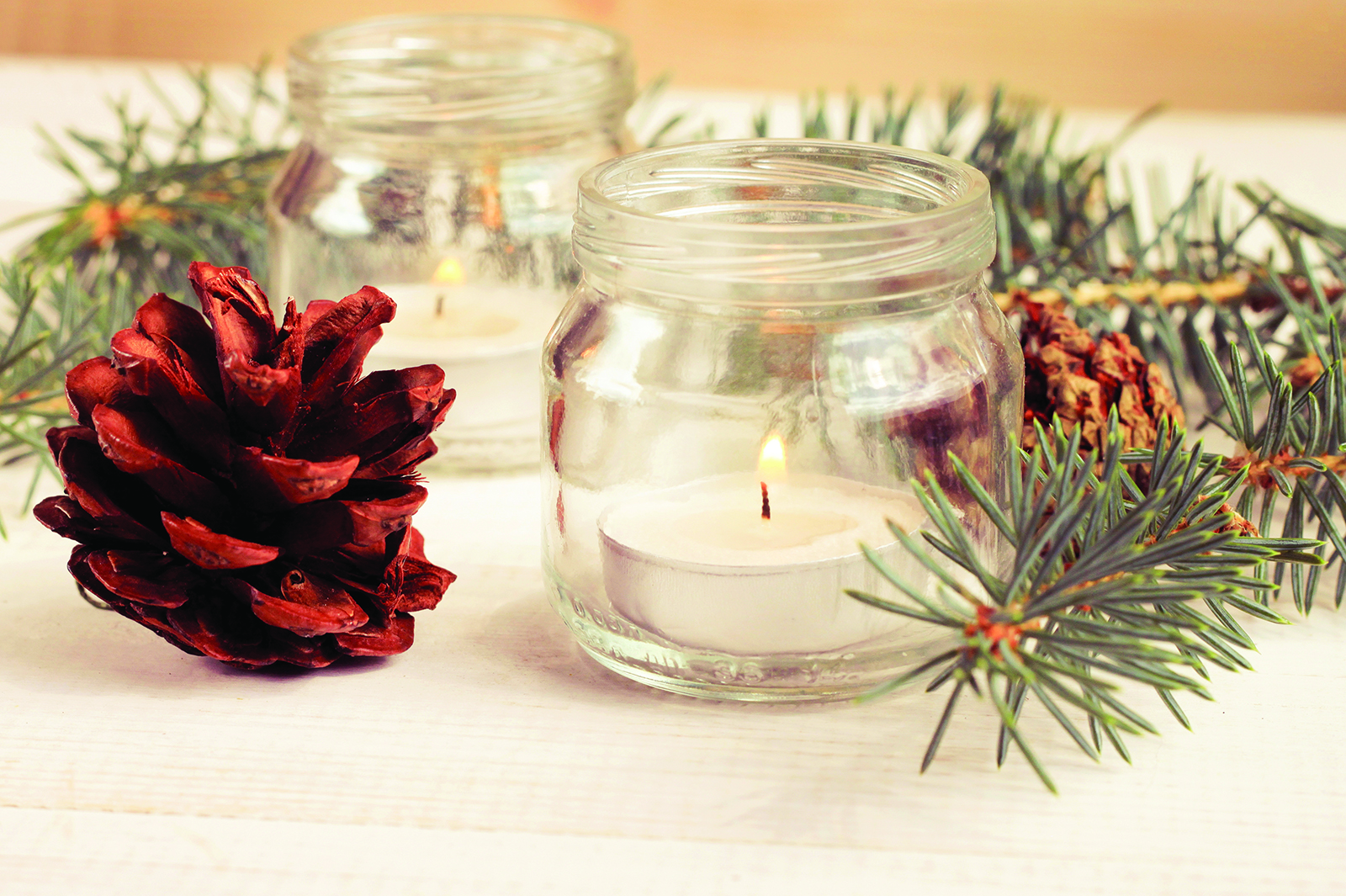 Add lights everywhere
Christmas lights are arguably the most popular of decorations, and the easiest. They look amazing outdoors at night, but add even more magic to the interior of your home, where you can really enjoy them.
You can use them anywhere, even hanging them over a boring wall that needs painting to create a curtain of light. I use them on artificial pine boughs over doors and along stair railings for a traditional effect, but my favourite application is to wind tiny seed lights around real pine cones inside class vases. Or, you can use empty condiment jars and just put the lights in all on their own. This has a very pretty firefly sparkle. Or wrap them around a single large pinecone for a mini Christmas tree effect.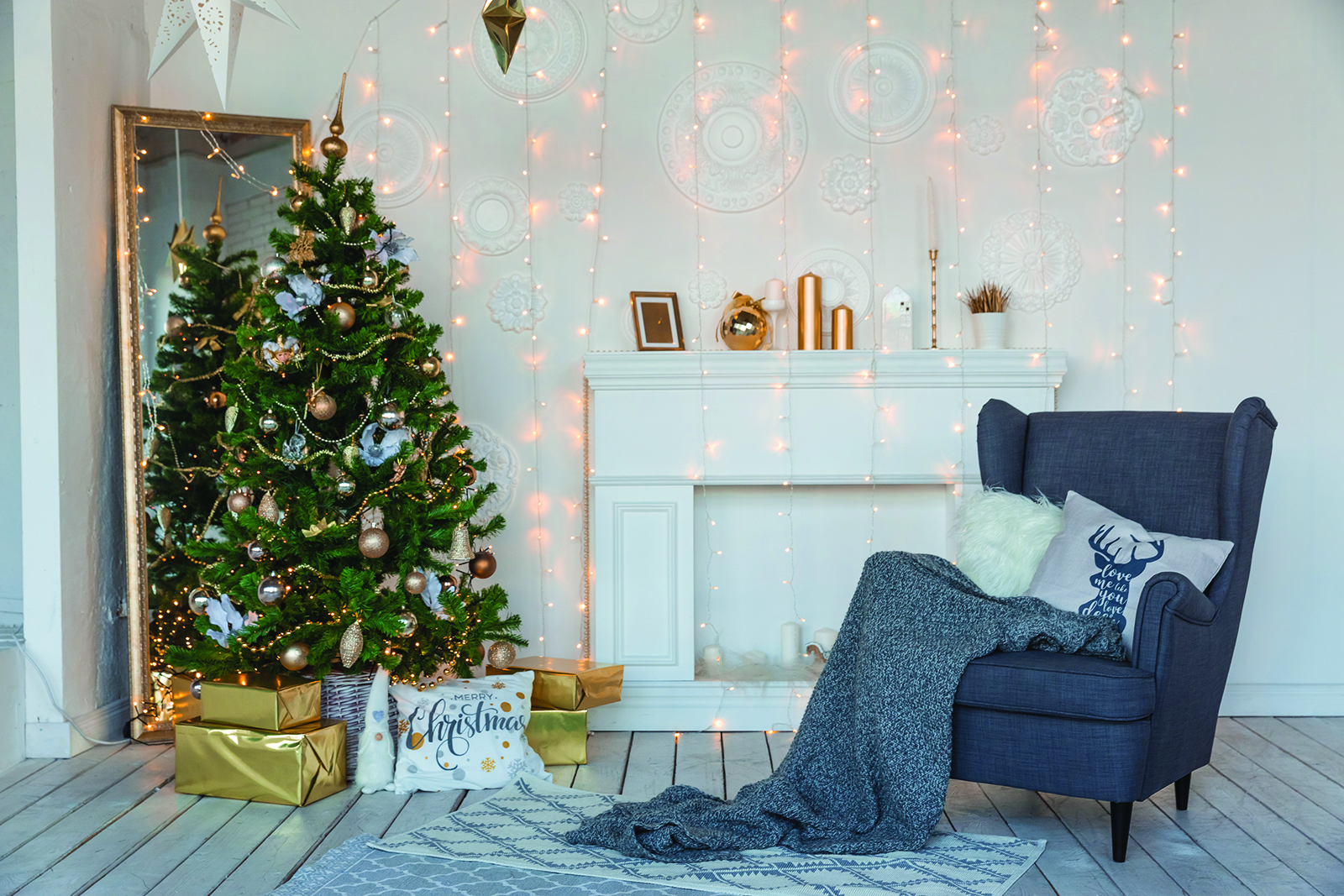 Hang festive wreaths
These don't have to be fancy. They can also easily be lit up using a string of lights with a battery pack so you don't have to worry about an extension cord hanging off your door. But don't just banish that gorgeous wreath to the outdoors. I hang wreaths on the insides of doors, too, including the plain door that leads to my basement. It's a cheery welcome whenever I head down there to do the laundry. (Yes, I'm being sarcastic. But it is cheery.)
Drape tinsel anywhere you can reach
Tinsel seems old fashioned, but wow, does it add punch to your light show! Every surface of it is designed to reflect light, so if you don't have many lights, it can really magnify their effect. It also doesn't cost very much for yards and yards of the sparkly stuff. It isn't just limited to gold and silver, either. I get very excited when I see fuschia tinsel and even though it doesn't work with my decor at all, I want it! You can even use it with your LED candles to make a very pretty centerpiece for your dining or coffee table, or both. If you don't have an aversion to sequins, you can buy large ones in the shapes of stars or snowflakes and scatter those over the table, too.
Make use of a colour scheme
If you love a traditional Christmas, you probably stick to a red and green palette. Or, if you're like me, you probably just gather together everything with sentimental value and find just the right place for it. So, yes, I still have popsicle stick decorations that my kids made for me in kindergarten. And yet, somehow it works, and as young adults, they still love to see them hanging on the tree. It's possible to have the "adult" tree that matches your decor upstairs with a more child-themed tree in the basement rec room.
Having a colour scheme, however, is a more modern approach. For convenience, stores already sort decorations into colour groupings for us. The challenge is deciding which colour scheme you like best and won't get tired of by next year.
Red, green, white, and gold are often used, but blue or pink also make for some striking effects.
Christmas is going to look different this year, and for some of us, it's going to be leaner than usual. But it's still possible to add some inexpensive cheer to the season with minimal effort. You'll feel better for it. Especially if you add a mug of egg nog on the side.