If you're like me, it isn't Christmas that's the most wonderful time of the year — it's Halloween!
Halloween developed from a pagan festival celebrating the changing of the seasons from light to dark (summer to winter). A bonfire would be lit and sweets prepared. The tradition of wearing costumes came from the belief that they would hide you from evil spirits.
While Halloween originated in Europe, the holiday became the celebration we recognize today when it was brought to America by the early settlers. People originally carved out turnips and placed candles inside to ward off evil spirits, but Americans switched from turnips to pumpkins.
Every year, cities and towns all over the world celebrate with festivals, parades, and theme park events. No matter how Halloween is celebrated, or which aspects of the holiday are celebrated, it has become a global phenomenon comparable to Christmas. It's not surprising that after Christmas, Halloween is the biggest retail day of the year.
If you haven't already started preparing for the spooky holiday, here are a few ways to help you get started.
Cannibal pumpkins
What screams Halloween more than carving pumpkins? This two-in-one pumpkin idea is scary, creative, and funny all at once — the Halloween trifecta. The tricky part (you know, beyond having A+ carving skills) is cutting the mouth just the right size to fit a smaller gourd. You can help hold it in place with toothpicks.
For a simpler version, just set a smaller gourd inside a larger pumpkin.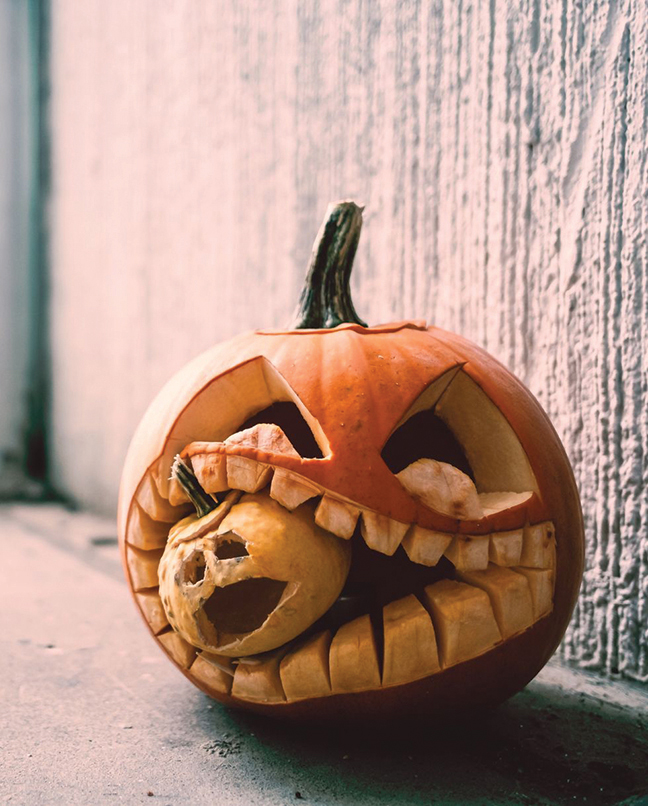 DIY lanterns
If you've never met a mason jar you didn't like, this is the Halloween DIY for you! With the abundance of battery-operated LED tea lights and candles to choose from, you can decorate with any material you like and not risk burning your house down. Spruce a few up with a little paint, add a glowing light, and you'll be set. Or use tissue paper and glue. You can also wrap artificial spider web around jars and add plastic spiders to really "bug" the arachnophobes out there. For an even easier version, draw a cat or pumpkin on a paper bag and set the tea light inside. Set your lanterns along your sidewalk or up your stairs for a spooky trail to the candy.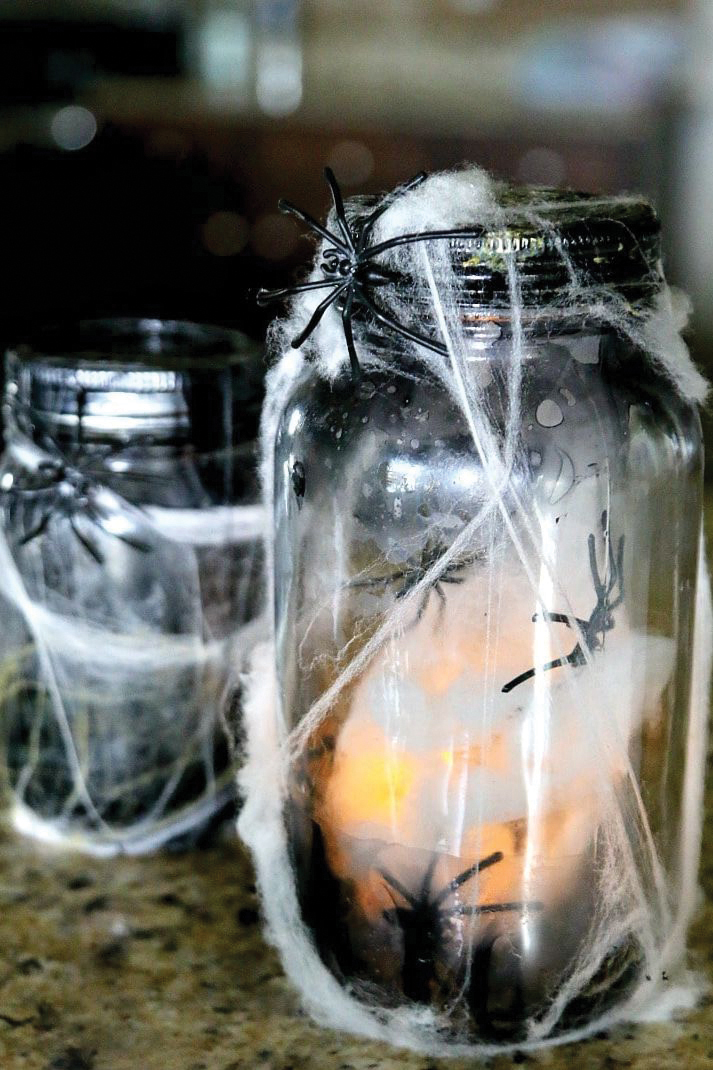 Paper cutout silhouettes
If you hava light coloured walls, or a big window you can backlight with a strobe or green or red spot light, this is a super-easy craft anyone can master. Simply buy a lot of black construction paper, or crepe paper for a drapey affect, and get busy with those scissors. You can cut out the shapes of bats and attach them to your walls, cut strips and hang them over doorways like cobwebs, or if you're really crafty, cut out the silhoette of a ghost or hanging man and hang it in an upstairs window with a light shining behind it.
If you buy rolls of black or orange crepe paper, you can even create a giant spider in its web and use a black garbage bag or balloon for the body.
Halloween food
When you close your eyes and imagine "Halloween food," you might not even be imagining food at all. It's probably more like piles of fun-sized chocolate candy bars. Or there's the typical party stuff from your childhood, which may have included bobbing for apples or touching peeled grapes pretending to be eyeballs. You can do better for your next Halloween party, right?
Here's one devilishly easy recipe to try.
Pumpkin Deviled Eggs
• 6 hard boiled eggs, halved, separated
• 3 tablespoons mayonnaise
• 1 teaspoon Dijon mustard
• Pinch of kosher salt
• Orange food coloring
• Paprika and chives, for garnish
Place egg yolks, mayonnaise, mustard and salt in small bowl; stir with fork until well combined. Stir in food coloring one drop at a time or until desired orange color is achieved. Fill egg whites with yolk mixture. Use a damp finger to smooth the yolk mixture. Use a toothpick to make lines in the yolk mixture to resemble a pumpkin. Lightly sprinkle yolk mixture with paprika, and garnish with a small piece of chive to make the pumpkin "stem."