August MLS® sales of 1,375 drop off from July and previous August months
WINNIPEG, September 8, 2022 - August MLS® sales activity showed a drop off from July and previous August months in the last few years. Sales of 1,375 are down 15% from August 2021 and 9% over the 5-year average. Year-to-date MLS® sales of 10,962 decreased 18% from the same period in 2021 but are up 2% over the 5-year average.
On the other hand, new listings in August are up 2% compared to August of last year, and in line with the 5-year average which had 2,249 listings, slightly higher than the 2,201 entered this August.
Where we are seeing a more pronounced difference is in end-of-month active listings or inventory, as there are 3,764 available listings — a 28% increase over August 2021.
"We have seen improvement in our market region's inventory compared to the beginning of the year, as MLS® listings entered for the first 8 months are down less than 6% compared to last year and well ahead of 2021 in terms of what is available for sale," said Akash Bedi, president of the Winnipeg Regional Real Estate Board. "The main reason for more listings for sale compared to last year at this time is that sales are well down from 2021's record-shattering market activity," he added.
It is clear that headwinds from higher interest rates — with another Bank of Canada rate increase expected this week — and other factors such as heightened cost of living increases and inflation concerns, are weighing heavier on our local housing market.
"Sellers in particular are beginning to see the changes in our market with above list price offers far less frequent than experienced earlier in the year," said Bedi. "In August, 63% of single-family home sales went for under list price, while 29% sold for greater than list price. Above list price single-family home sales in March and April were at 67% and remained over 50% for the entire first half of 2022."
Other indicators of a shifting market are the 62% conversion ratio of current or new listings to sales in August. This was down from last year and from 2020 where they were 75% and 78% respectively.
This decline is most noticeable for residential-attached properties where the conversion ratio of new listings to sales is 44% compared to 75% last year and 84% in 2020. The one exception to this trend is condominiums, as despite sales falling back 9% in August compared to August 2021, the 69% conversion of new listings to sales was higher by 6%.
Another metric of the shifting market is the ratio of total sales dollar volume to total listing dollar volume for single-family home market activity. This has dropped for the first time under the equilibrium level of 100% to 99%, when it had been as high as 108.5% this year. At 108.5%, this means the average of all homes selling is for 8.5% above list price.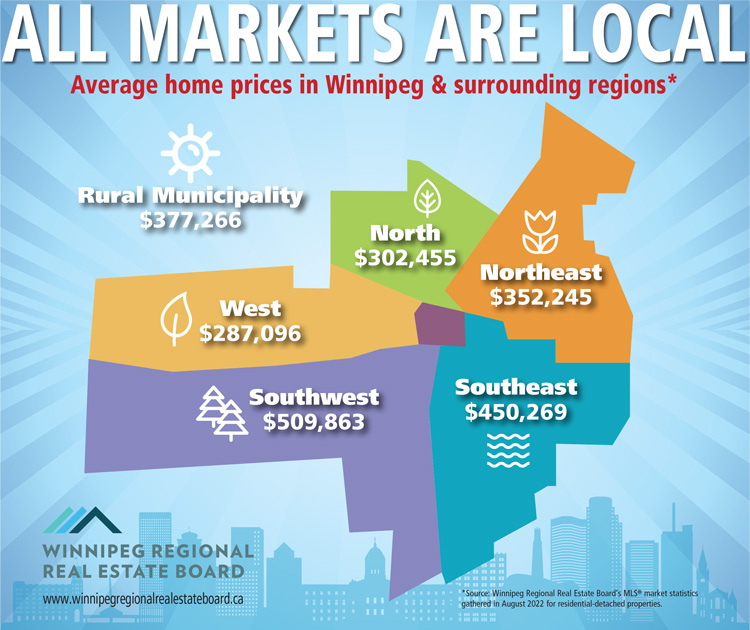 You can see the result of the notable drop off in this ratio in August's average single-family home prices for the six MLS® zones the Winnipeg Regional Real Estate Board tracked monthly. For example, where southwest Winnipeg was $582,387 in May, in August it was $509,863, while for the rural region outside Winnipeg it fell back from its $429,835 average sales price in May to $377,256 in August.
"Average monthly sales prices are often more a reflection of where sales activity is happening within the various price ranges than the actual price of a home in any given area of our market region," said Bedi.
In August, the 44 sales from $700,000 to $999,999 were almost one-half of what sold in this price range in the peak average selling month price of May, and on the other end of the price range spectrum there were 337 sales under $300,000, whereas in May there were 236. Shifts in where sales occur each month can skew average sale prices up or down.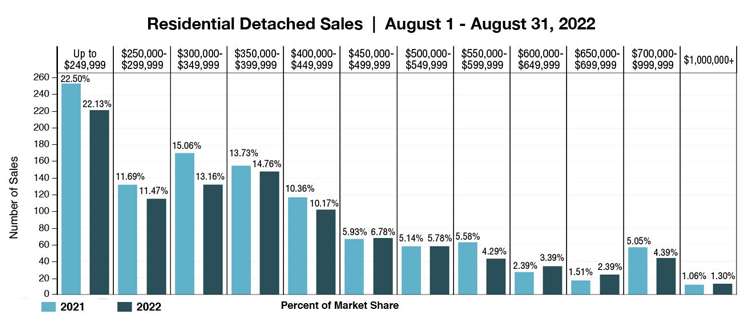 Helpful in detecting home price trends in 2022 is the Canadian Real Estate Association's MLS® Home Price Index — or HPI — which notes benchmark pricing for a typical home with similar attributes in any given housing market across the country. The Winnipeg Regional Real Estate Board market region's single-family home benchmark price in August was $361,500, a decrease of $5,700 from July and $27,100 from its peak month in May. The single-family home benchmark price at the end of 2021 was $347,600.
As for the condominium apartment benchmark price, it reached its highest level this past July at $234,000, and was slightly lower in August at $233,400.
All markets are different, so in the Greater Toronto Area (GTA) the highest single-family benchmark price was $1,603,800 earlier in the year, whereas in August it was $1,321,600.
As much as we are seeing a shift in our market, we should not be so quick to discount how well some metrics are still performing. For the 1,003 single-family homes sold in August, they were only on the market for an average of 22 continuous days. It was just 4 weeks for the 193 condominium sales.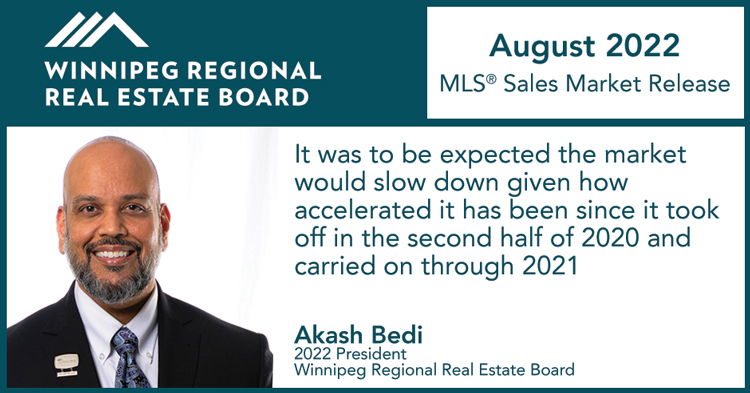 "It was to be expected the market would slow down given how accelerated it has been since it took off in the second half of 2020 and carried on through 2021," said Bedi. "Even without the rapid rise in interest rates this year, it was bound to settle down as many buyers advanced their home buying plans in the last two years."
"Markets ebb and flow, as we are seeing now, so you need to contact your REALTOR® to understand how changes will impact your own situation," said Marina R. James, CEO of the Winnipeg Regional Real Estate Board. "Real estate is local and our REALTOR® Members are the experts on the local market region."
-30-
The Winnipeg Regional Real Estate Board is a not-for profit corporation founded in 1903 by a small group of real estate practitioners. Today, as one of Canada's longest running real estate boards, ​the Winnipeg Regional Real Estate Board,​ serves over 2,400 licenced real estate Brokers and Salespersons, along with other industry related professions in and around the Winnipeg Metropolitan Region providing them with essential resources to enhance professionalism, advance the industry's development and enrich the communities they serve. The Winnipeg Regional Real Estate Board is the collective voice for both its residential and commercial REALTOR® Members and operates under the direction of an elected voluntary Board of Directors.
The MLS® is a co-operative real estate selling system operated and promoted by the Winnipeg Regional Real Estate Board that includes an up-to-date inventory of listings from participating REALTORS®.
The trademarks MLS®, Multiple Listing Service® and the associated logos are owned by The Canadian Real Estate Association (CREA) and identify the quality of services provided by real estate professionals who are members of CREA. The trademarks REALTOR®, REALTORS® and the REALTOR® logo are controlled by CREA and identify real estate professionals who are members of CREA.​
Media Inquiries:
Peter Squire
Vice-President, External Relations & Market Intelligence
Winnipeg Regional Real Estate Board
psquire@wrreb.ca
Office: 204-786-8857​​