May finishes strong with more sales, listings and dollar volume
WINNIPEG, June 9, 2022 – This past May - with the exception of the over 2,000 sales transacted in May 2021 - was an outstanding month as it outperformed every other May previously. The 1,723 sales were a decrease of 14% from the same month in 2021 but are up 4% over the 5-year average.
May's dollar volume of $690.4 million is another story as this total even held its own against May 2021 which was the highest dollar volume month on record at $692.6 million. This development alone shows the ascendancy of prices from a year ago, with the average price for all MLS® sales now being $400,707 versus $345,269 in 2021.
"While playing some catch-up this spring on one that has been delayed from a harsh, long winter, prices have been well ahead of 2021 from the very beginning," said Akash Bedi, 2022 president of the Winnipeg Regional Real Estate Board. "Rising interest rates are upon us with more to come, and that, in combination with a healthy injection of new listing supply, should help slow the pace of price increases as evident already from this month."


Both active listings, or current inventory, and new listings coming on the market in May, caught up with last year as until now they had been lagging considerably. In April, for example, both active and new listings were off by 19% compared to the same month in 2021 with only 1,892 new listings.
In May, active listings of 2,747 are down less than 1% from last year, while the 2,658 new listings are an increase of 5%. Early June shows active listings total over 3,000 — a number that may rise even higher than June 2021 if it remains above this threshold level.
"An influx of new listings into our market is welcome," said Bedi. "Tight market conditions still prevail, however, as based on current sales we have less then two months of inventory when you want to have at least double that amount to move more into a balanced market."
Despite being influenced by global events that are causing inflation and higher borrowing costs — with the Bank of Canada's most recent move to increase its overnight rate by 50 basis points to 1.5% — WRREB's market is seeing month-to-month increases in sales even while other major markets have dropped back from their earlier 2022 monthly numbers, proving once again how all markets are local.
In May, the real estate markets in Toronto, Vancouver and Calgary all experienced decreases around 10% from April 2022, whereas our local market was up 18%.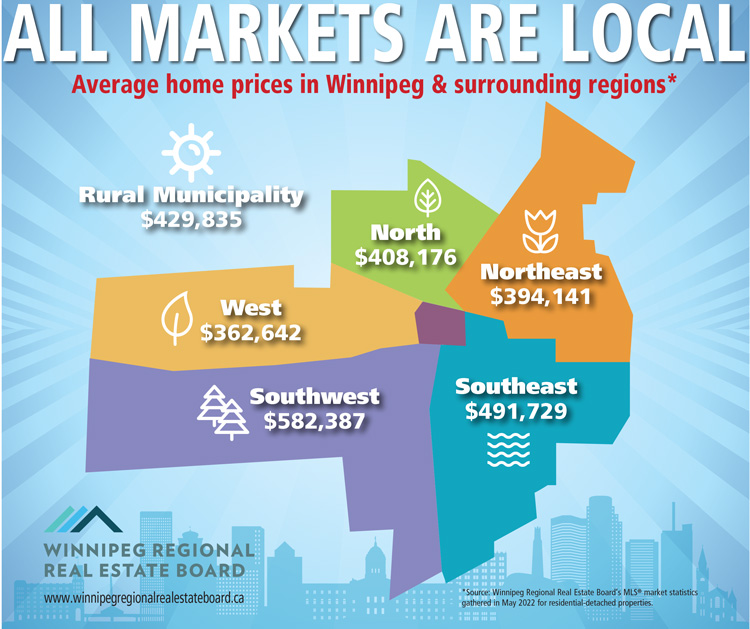 "Contrary to some other major markets where they are seeing a decrease in month over month sales, our local market is experiencing increased sales," said Bedi. "The other development which really emerged in May is the uptick in new listings of more than 29% from April."
The main driver behind MLS® dollar volume reaching close to $700 million this month was the single-family property type. The average sales price climb of this property type rose even higher from April's new peak level of $447,421 to top out at $454,832. The cost of a single-family property has risen steadily since January, when it first rose above $400,000 to $401,216.
When looking at our bar graph showing sales activity percentage market share for single-family homes, with a direct comparison to the previous year, these shifts become clear, with nearly 20% of sales from $0 to $249,999 in 2021 almost cut in half to 11% this year, and the opposite at the $700,000 to $999,999 price range with 4% heading upward to 7%. In the over $1 million price range, there were 18 sales compared to only 8 in 2021, with one of those sales at just under $3 million for a new home built in Tuxedo.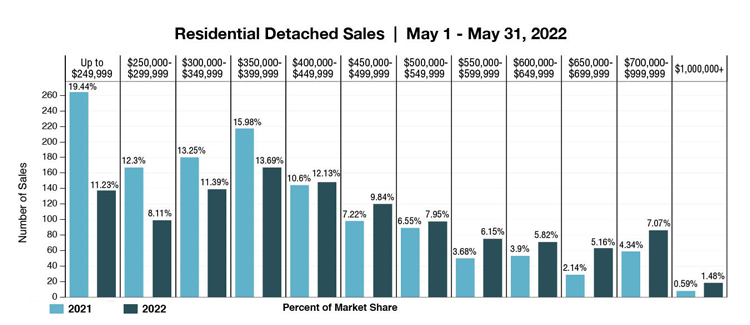 Condos, on the other hand, have seen far more modest price increases from their previous level of $251,629, with the average price at $261,910 in May and $261,802 in April. In May, the most active price range was between $150,000 to $199,999 at 25%. It was also the leading price range in May 2021 when it was 28%. However, this does not mean that much higher sales prices never occur, as in May a luxury penthouse apartment sold downtown for close to $1 million.
"The more housing options and choice we can provide throughout our market region will go a long way to keep our housing more affordable," said Bedi. "This is certainly an issue and priority we will be raising during this year's lead up to the October 26th civic election as municipalities play an important role in addressing provision of housing supply."
"With rising interest rates, our REALTORS® work closely with other aligned professionals, such as mortgage brokers, to keep their pulse on the market and impacts that may result," said Marina R. James, CEO of the Winnipeg Regional Real Estate Board.
-30-
Winnipeg Regional Real Estate Board (WRREB) is a not-for profit corporation founded in 1903 by a small group of real estate practitioners. Today, as one of Canada's longest running real estate boards, WRREB serves over 2,300 licenced real estate Brokers and Salespersons, along with other industry related professions in and around the Winnipeg Metropolitan Region providing them with essential resources to enhance professionalism, advance the industry's development and enrich the communities they serve. WRREB is the collective voice for both its residential and commercial REALTOR® Members and operates under the direction of an elected voluntary Board of Directors.
The MLS® is a co-operative real estate selling system operated and promoted by the Winnipeg Regional Real Estate Board that includes an up to date inventory of listings from participating REALTORS®.
The trademarks MLS®, Multiple Listing Service® and the associated logos are owned by The Canadian Real Estate Association (CREA) and identify the quality of services provided by real estate professionals who are members of CREA. The trademarks REALTOR®, REALTORS® and the REALTOR® logo are controlled by CREA and identify real estate professionals who are members of CREA.
Media Inquiries:
Peter Squire
Vice President, External Relations & Market Intelligence
Winnipeg Regional Real Estate Board
psquire@wrreb.ca
Office: 204-786-8857​​