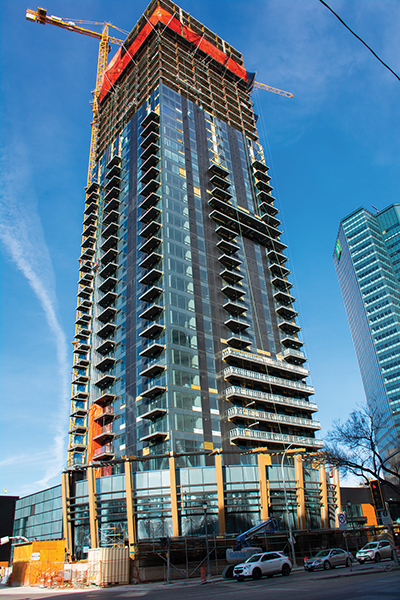 by Geoff Kirbyson
There's a new tallest building in town but it's going to do much more than simply change the city's skyline.
300 Main has the potential to not only revamp downtown Winnipeg's retail sector but revolutionize the central business district, experts say.
When it's completed later this year, 300 Main will be 42 storeys and 142 metres feet high, making it nine storeys and 14 metres taller than 201 Portage, which has held the title as Winnipeg's tallest building for the last three decades.
300 Main will be the south anchor of the Winnipeg Square concourse and have access to its many services and amenities, including banking, fast food, restaurants, dry cleaners, tailors and a drug store. The $140-million building will also have its own fitness centre, a games room, an outdoor common area with barbecues, a daycare and a dog run and pet-washing station.
"We wanted to build a landmark apartment building that would differentiate it from anything else in the city. It will be quite luxurious with spectacular views overlooking The Forks. Being tall is important. We think it's going to be an iconic address," said Frank Sherlock, executive vice-president of property management at Artis REIT, stated in 2019.
But as the first apartment building in the heart of downtown, its 400 units will reverberate in a way that other buildings in the vicinity haven't, according to Brent Bellamy, senior design architect for Number TEN Architectural Group and chair of CentreVenture, Winnipeg's downtown development agency.
"It will have the ability to quickly change the feel of downtown. If there are 1,500 people living at Portage and Main, it changes the dynamic of the commercial and retail spaces. They'll have to cater to people who live there 24-7," he said.
"Portage and Main isn't just a place to drive through, it's a place to be. In addition to Portage and Main, Bellamy said Graham Avenue will be impacted significantly once 300 Main has handed out room keys to tenants.
"Graham Avenue is looking like it's going to be a very important street in the next 50 years. With True North Square and 300 Main at the other end, it's becoming the heart
of downtown. Being a transit-oriented street, it's a place
for people. Once there are thousands of people living on Graham Avenue, it will be a catalyst for further development," he said.
"It can be a real neighbourhood instead of just a commercial area you come to for eight hours and leave."
Jim Ludlow, president of True North Real Estate Development, which opened the first of its five towers just a few blocks away in 2018 and plans to cut the ribbon on the fifth in 2023, agrees with Bellamy. He believes its $550-million project, which features office, commercial, apartments, condos and a hotel, plus Timbercreek Asset Management's
conversion of the old Medical Arts Building on Kennedy Street to residential and 300 Main represent major votes of confidence in downtown Winnipeg today and the momentum can continue for many years to come.
"It takes what ARTIS, Timbercreek, us and other developers are doing in the downtown to create the density that brings critical mass and things start to feed off each other," he said.
"What you see in other Canadian cities is the emergence of dense residential trends in downtown and continuing density."
Ludlow said retail developers will have to address a new viewpoint that hasn't been on their radar before — a younger, millennial office worker who wants to live in a dense urban environment.
"When you get critical mass, the downtown can thrive. It's a challenge for mid-market cities in North America. It takes a lot of vision. In a city like Winnipeg, you need to have a real
public-private sector relationship," he said.
geoffkirbyson@mymts.net